Viewing:
» Preliminary Exercises In Technique_Kenyon, Stephen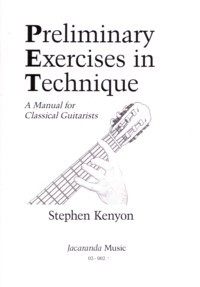 Preliminary Exercises in Technique
Product Information
Author:

KENYON, Stephen

Type:

Book Only

Language:

English

Instrumentation:

Solo Guitar

Skill Level:

Intermediate

Pages:

20

Availability:

Available

Stock Reference:

JM02002


Full Description
Preliminary Exercises in Technique
Technique on the guitar is a means to the end of musical expression not an end in itself. But you always need more technique than you think, so your musical ideas are not restricted by what your fingers will allow you to do.
Most of the many fine technique manuals available make the assumption that you can already just about do the various techniques, and that you just need exercises to get better at them. With PET we have created an approach with two main aims:
to make the various technical aspects in the book approachable for those coming to them for the first time

to introduce at this early stage, a simple first experience of techniques normally only introduced much later, if at all. These are the techniques of damping and rasgueado.
Stephen Kenyon