Viewing:
» Guitar Method, Vol.2 [ Audio]_Parkening, Christopher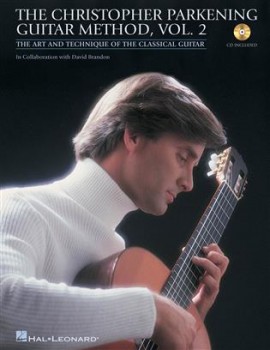 Guitar Method, Vol.2 [+ Audio]
Product Information
Author:

PARKENING, Christopher

Editor:

BRANDON, David

Type:

Book Only

Language:

English

Instrumentation:

Solo Guitar/Two Guitars

Skill Level:

Intermediate / Advanced

Pages:

136

Availability:

Available

Stock Reference:

HAL696024


Full Description
The Christopher Parkening Guitar Method Vol.2
The art and technique of the Classical Guitar.
An outstanding source for the technique and repertoire of the classical guitar, this book continues where Vol. 1 leaves off.
It teaches:
all notes in the upper position
tone production
advanced techniques such as tremolo, harmonics, vibrato, pizzicato and slurs
practice tips
stylistic interpretation
and more
online audio access included
The first half of the book deals primarily with technique, while the second half applies techniques to repertoire pieces. As a special bonus, this book includes 32 previously unpublished Parkening edition pieces by composers including Dowland, Bach, Scarlatti, Sor, Tarregá and others, plus three guitar duets. Online audio access includes 60 demonstration tracks.