Viewing:
» The Guitarists Progress, Book 1_Burden, David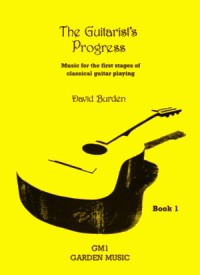 The Guitarist's Progress, Book 1 [GM1]
Product Information
Full Description
The Guitarists Progress Book 1
This book takes the guitar student from reading music to playing pieces of approximately Grade 2 standard. It leaves the teaching of technique, hand positions etc. to the teacher, but provides material for all aspects of the very early stages of learning.
Part 1. Carefully graded melodies to introduce gradually all the notes in first position,
Part 2. General repertoire section including rediscovered works by Jose Ferrer(1835-1916)
Part 3. Reference section which can be consulted when a new technique or musical term is encountered.
ABRSM(2019) syllabus listed publication
Aguado: Valse in G
ABRSM(2019) Grade 2
Kuffner: Arietta in A
ABRSM(2019) Grade 3