Viewing:
» Dont Press Too Hard, Book 3_COTTAM, DAVID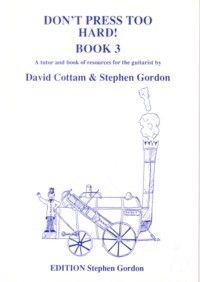 Don't Press Too Hard, Book 3
Product Information
Full Description
David COTTAM & Stephen GORDON
Dont Press Too Hard: Book 3
Priority in this tutor is given to right hand development, so that fluency, simplicity and rhythmic control are of primary importance. Most right hand patterns are arpeggio based and lend themselves to free strokes(tirando). p-i-m-a are used in an integrated way that does not relegate "p" to just a supportive bass role.
Books 1 & 2 functioned primarily as tutors. Book 3 is a book of resources introducing chords, slurs and rest strokes(apoyando) through repertoire in a clear and systematic way.
Book (Printed Music)

£P.O.A.