Viewing:
» Guitar Intro 2, The Ensemble Book_Kircher, Irina & Montes, Alfonso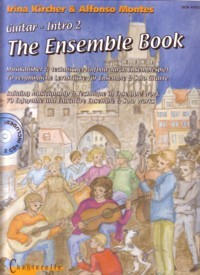 Guitar Intro 2, The Ensemble Book
Product Information
Author:

KIRCHER, Irina & MONTES, Alfonso

Editor:

MONTES, A.

Type:

Book Only

Language:

English/German

Instrumentation:

2Gtr/3Gtr/4Gtr/5Gtr

Skill Level:

Easy

Pages:

104

Availability:

Sold: On Order

Stock Reference:

ECH4102


Full Description
Irina KIRCHER & Alfonso MONTES
Guitar Intro 2: The Ensemble Book
Building Musicianship and Technique in Ensemble Work
70 Enjoyable and Educative Ensemble Works in 33 lessons ideal for Groups and Schools.
Includes original works and arrangements by Irina Kircher and Alfonso Montes of classical, European and Latin American traditional music and popular music.
Book and 2CD pack
- Bächli: Dance of the Wild Horses
- Trad: Alle Leut
- Caravan
- Ungarisches Volkslied
- Rock my Soul
- Guantanamera
- English Folksong
- Auf de schwaebsche Eisabahna
- Slovenian Folksong
- Pilon
- Slovenian Dance
- Galeron
- What shall we do with the drunken sailor
- Tengo una Muneca
- Niño Lindo
- Go tell it to the mountain
- Hoert der Engel helle Lieder
- Cantico
- Polo
- Greensleeves
- Pájara Pinta
- Oh when the Saints
- Scarborough Fair
etc.