Viewing:
» 3 in 1 Polish Packettes_Planet Waves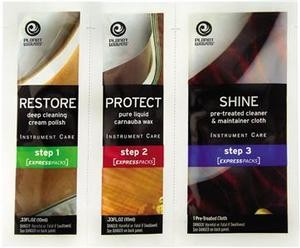 3-in-1 Polish Packettes
Product Information
Availability:

Available

Stock Reference:

PW-PK


Full Description
Planet Waves
Guitar Polish Express Pack
The Planet Waves Guitar Polish Express Pack contains a complete 3-step system for keeping your precious guitar looking it's best and aging gracefully.
Step 1, is Planet Waves' Restore deep cleaning cream polish, a rich formula designed to cut through the toughest grime. Safe on all common guitar finishes, Restore polishes out swirl marks and even minor scratches, reanimating your finish like never before. For best results, follow with Planet Waves PROTECT pure liquid Carnauba wax.
Step 2, Planet Waves' Protect: Premium no.1 yellow Brazilian Carnauba wax is the main ingredient in this natural protectant and sealer. Planet Waves used advanced chemistry to give your finish a distinct radiance after one quick and easy application. Just pour a
small amount on a dry polishing cloth and work it thoroughly into the guitar's surface using a circular motion. After the wax dries to a haze, remove it with a clean polishing cloth.
Step 3, Shine, is a pre-treated cleaner and maintainer cloth. Get rid of the worry about whether the cloth you're using on your precious instrument is safe for the finish. This one is designed specifically to put on a beautiful, protective finish. Manufactured by Planet Waves

Accessories

Only £8.29 (ex VAT)

Accessories

Only £7.08 (ex VAT)

Accessories

Only £7.46 (ex VAT)