Viewing:
» First Concerto, Op.48(ophee) [2vnvavcgtr]_Sh&, Ernest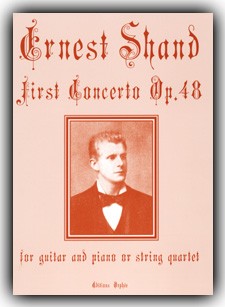 First Concerto, op.48(Ophee) [2Vn/Va/Vc/Gtr]
Product Information
Author:

SHAND, Ernest

Editor:

OPHEE, Matanya

Type:

Book Only

Language:

English

Instrumentation:

Gtr/Pf (Gtr & String Qtet)

Skill Level:

Intermediate / Advanced

Pages:

28pp+pts

Availability:

Sold: On Order

Stock Reference:

EICM31


Full Description
The First Concerto Op. 48 by Ernest Shand represents the first composition in this genre by a British composer. It is a traditional work that exhibits resource and originality and reflects Shand's evolving style. Unity of form was less important to him than colour and melody, and he preferred to introduce new themes rather than develop existing ideas. The scoring is diaphanous, imaginatively conceived to enhance the guitar's tonal qualities. It is this harmonious balance between the guitar and the accompaniment that contributes to the Concerto's success.
This edition is presented in two versions:
- Guitar and piano
- Guitar and string quartet(reconstructed by Jonas Tamulionis)
Introduction by Stewart Button, who has made extensive research of the guitar in Britain in the early 20th century.