Viewing:
» Malamatina_DOMENICONI, CARLO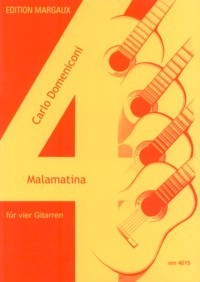 Malamatina
Product Information
Author:

DOMENICONI, Carlo

Type:

Book Only

Language:

English/German

Instrumentation:

Four Guitars

Skill Level:

Intermediate / Advanced

Pages:

20pp+pts

Availability:

Sold: On Order

Stock Reference:

EM4015


Full Description
Tempo di Sirtaki
for four guitars, four glasses and a bottle of wine!
Domeniconi's Malamatina is a piece of musical theatre and is also the name of a Greek retsina wine, thus this humoresque is performed in the style of Greek folk music.
Sirtaki is a dance made famous through the film 'Zorba the Greek'.
The type of wine used is not obligatory!