Viewing:
» Gitano Guitar Support_Gitano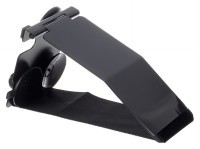 Full Description
GITANO Guitar Support
(New Model)
This is the newer triple suction cup model released in 2017.
An excellent alternative (or addition) to a footstool offering less stress on the lower back by helping to maintain a good solid playing position with both feet flat on the ground. Compact and portable, the recently re-designed Gitano attaches to the base of the instrument with three suction cups(improved for better grip and longevity) for greater stability. The Gitano support is hinged allowing it to be folded when not in use and left on your instrument when stored in its case.
Benefits of the Gitano guitar support:
It need never be removed (three suction-cups affix it to the side of the guitar)

Compact and light weight design

Easy adjustment

Will fit in-situ into most cases.

Perfectly ergonomical on either leg

Low-price and practical.

Fits into any guitar case.
NB
. As with all suction cup devices some finishes such as French polish are unsuitable in providing good surface for suction. However a self-adhesive clear protective film is
available separately
in two types which when suitably placed will resolve this problem.
A frame Gitano Ergoplay Dynarette Cushion
Accessories

Only £4.00