Viewing:
» Variations On Three Blind Mice Op.24_Duarte, John W.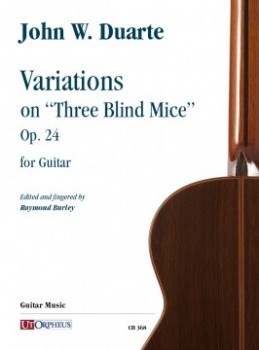 Variations on Three Blind Mice op.24
Product Information
Author:

DUARTE, John W.

Editor:

BURLEY, Raymond

Type:

Book Only

Language:

English/Italian

Instrumentation:

Solo Guitar

Skill Level:

Intermediate / Advanced

Pages:

12

Availability:

Sold: Out of Stock

Stock Reference:

UOCH368


Full Description
John DUARTE
Variations on Three Blind Mice op.24
First time in print. These Variations on the Nursery Rhyme 'Three Blind Mice' by John W. Duarte would make an excellent concert-piece, with some humour thrown in. Each of the Six Variations is in the style of a different composer - Luis Milán, de Visée, Carcassi, Sor, Tárrega and Mario Castelnuovo-Tedesco.
Imported title - usually suppies in 28 days