Viewing:
» GHE
» Collected Works Vol.7 Solos Opp.30 40_Sor, Fern&o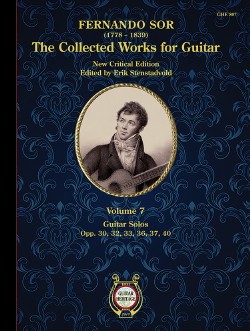 Collected Works Vol.7 Solos opp.30-40
Product Information
Author:

SOR, Fernando

Editor:

STENSTADVOLD, Erik

Type:

Book Only

Language:

English

Instrumentation:

Solo Guitar

Skill Level:

Intermediate / Advanced

Pages:

80

Availability:

Available

Stock Reference:

GHE807


Full Description
Fernando SOR
Collected Works (Stenstadvold)
Vol.7 Solos opp.30-40
Sor, Fernando: Septième Fantaisie et Variations Brillantes Op. 30
Sor, Fernando: 6 Petites Pièces Faciles Op. 32
Sor, Fernando: 3 Pièces de Société Op. 33
Sor, Fernando: 3 Pièces de Société Op. 36
Sor, Fernando: Sérénade Op. 37
Sor, Fernando: Fantaisie sur un Air favori Ecossais ("Ye banks and braes") Op. 40.
This new critical edition by leading guitar researcher Erik Stenstadvold contains thematic indexes, comprehensive critical commentaries based on sound and transparent editorial practice, copious historical notes, publishing history, and some previously unpublished repertoire. It has been thoroughly researched and is produced to the highest standards.
The original fingering from the historical sources is retained in all volumes. In all other volumes except for the Duos Study scores (Vols. 13 & 14), this is complemented, in a contrasting typeface, by some editorial fingering where we consider it helpful.