Viewing:
» GHE
» Collected Works Vol.2 Studies Easy To Intermediate_Sor, Fern&o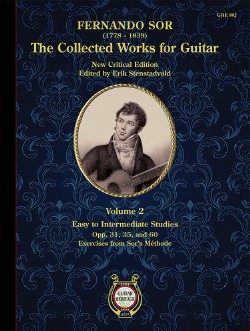 Collected Works Vol.2 Studies Easy to Intermediate
Product Information
Author:

SOR, Fernando

Editor:

STENSTADVOLD, Erik

Type:

Book Only

Language:

English

Instrumentation:

Solo Guitar

Skill Level:

Intermediate

Pages:

108

Availability:

Available

Stock Reference:

GHE802


Full Description
Fernando SOR
Collected Works (Stenstadvold)
Vol.2 Easy to Intermediate Studies

- 24 Leçons Progressives Op. 31
- 24 Exercices Très Faciles Op. 35
- Introduction à l'Etude de la Guitare – 25 Leçons Progressives Op. 60
- Exercises from Sor's Méthode [a selection]
Series description
We proudly present a new critical edition of the collected guitar works by Fernando Sor. Some titles in this edition may be new to some readers, eg the contents of volume 10. This new edition is the biggest new publishing undertaking for the music of Sor since the 1970s.
Our editor Erik Stenstadvold is a noted expert on 19th century guitar music and publishes regularly in leading professional journals such as 'Soundboard' and 'Early Music'. His life-long preoccupation with Sor and his music, both as a performer and researcher, has resulted in an unsurpassed edition in terms of scholarly accuracy and practical usefulness.
All relevant early sources have been consulted, often several different printed editions and manuscripts of a particular work. In each case the most dependable source has been chosen as copy text, on the basis of historical evidence and textual reliability.
Variances and errors in the original scores are corrected and discussed in the comprehensive critical commentaries. All volumes contain detailed introductory notes that place the individual works in their historical context and discuss particular notation problems. Suggestions for the interpretation of ornaments are also provided. In Volume 1 and 2 (Studies), Sor's likely purpose of each individual study is discussed in relation to the technique and fingering principles he describes in his 1830 Méthode.
The music scores are produced at 'concert size' with clear and accurate music engraving and high-quality German printing. Original fingering is retained, but in order to make the music more accessible to players in general, editorial fingering has been judiciously added in works with little or no indications in the original editions. Added fingerings are easily distinguishable from the original ones by their different typefaces.
The guitar duos come with full-size study scores and separate parts. As an optional extra we offer a 'pocket' size score with all the duos (188 pages, 17 x 24 cms).
Each volume has its own thematic index with incipits and the pages include headers to assist navigation.