Viewing:
» Granadosmalatsiradier Transcriptions_Barrueco, Manuel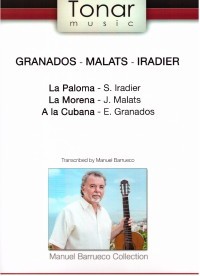 Granados/Malats/Iradier Transcriptions
Product Information
Author:

BARRUECO, Manuel

Editor:

BARRUECO, Manuel

Type:

Book Only

Language:

English

Instrumentation:

Solo Guitar

Skill Level:

Intermediate / Advanced

Pages:

20

Availability:

Available

Stock Reference:

TM01115


Full Description
GRANADOS-MALATS-IRADIER
Transcriptions
arr.Manuel Barrueco
Iradier: La Paloma (habanera)
Malats: La Morena (cubana)
Granados: A la Cubana op.36
Manuel Barrueco writes:
La Paloma (The Dove) is one of the most beloved Spanish songs of all time, a song that went on to become famous all over the world. It was written by the Spanish composer Sebastián Iradier (1809-1865) after having visited Cuba around 1860. It is a habanera, a dance form from Havana, which was very popular at that time. Another habanera written by Iradier was El Arreglito (The Little Arrangement), which Georges Bizet, believing that it was a folk melody, would recompose to become the famous aria "L'amour est un oiseau rebelle" in his opera "Carmen." When Bizet found out that the melody had in fact an author, he revised the score to recognize Iradier as the composer. In 1879, La Paloma was registered at the copyright office in Madrid as a "Canción Americana con Acompañamiento de Piano" (American Song with Piano Accompaniment). Iradier died in obscurity, never to see how popular La Paloma would become.
La Morena (The Dark-Skinned Woman) was written by the Spanish pianist and composer Joaquín Malats (1872-1912). Malats wrote mostly salon pieces for the piano. The tropical and sensual La Morena, which Malats characterizes as a cubana, is such an example. Another example is his most famous piece, Serenata Española, a piece that would also become a favorite among guitarists after Francisco Tárrega made his guitar transcription.
A la Cubana, Op. 36 (In the Cuban Style) was written in 1914 by the great Spanish composer Enrique Granados (1867-1916). It is difficult to find a Spanish composer who lived around the turn of the twentieth century who did not compose at least one piece of music connected in some way to Cuba. Certainly, the three most important composers, Albéniz, Granados, and Falla, did. In the case of Granados, it may have influenced him that his father, a Spanish army captain, was actually born in Havana of Cuban parents. Also, judging from the musical contents of A la Cubana, it is not difficult to wonder if Granados may have been aware of Ignacio Cervantes' music and that it influenced him as well. A la Cubana is a warm and lyrical piece in two movements. It is written in the form of a rondo, with its swaying, tropical opening theme continually returning after each new section of the piece.