Viewing:
» Passport To Play Guitar Vol.2 [ Audio]_Pells, Timothyfranke, Jens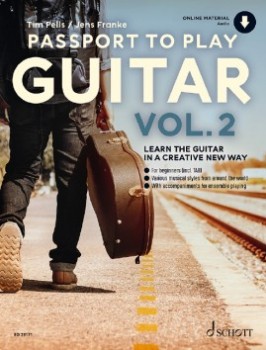 Passport to Play Guitar Vol.2 [+ Audio]
Product Information
Full Description
Tim PELLS/Jens FRANKE
Passport to Play Guitar Vol.2
Learn the Guitar in a creative new way: Playing music that makes you feel good, right from the outset.
Passport to Play Guitar is a tutor series which is focused on learning to play the guitar through listening, reading and playing together, and is suitable for both classical and acoustic guitarists.
The books use music drawn from styles and cultures from all around the world, including Blues and Jazz from North America; Folk and Traditional music from Europe, Africa and Latin America; and pieces inspired by the people and places that the authors have encountered on their travels.
Audio files & clear illustrations:
Because musicians everywhere learn by listening and playing together, our authors have also included audio for every piece. This allows you to play along with other musicians, while learning at the same time.
Tim and Jens (the authors) believe in keeping it simple, which is why they have included clear illustrations and kept the explanatory texts to a minimum. The focus will always be on playing music that makes you feel good, right from the outset.
Contents
Style Point Folk-Blues
1 Hot Delta Blues (Mississippi Delta)
2 Frankie & Albert (St. Louis, Missouri)
Project Accompaniment!
3 Strummit (Melody) (Belgium, Hot Club), Strummit (Accompaniment)
4 Slippery Cha Cha (Cuba)
5 Barracuda (Caribbean)
Style Point Jazz
6 Don't Get Around Much Anymore (St. Louis, Missouri)
Cycle of Major Keys
7 Sweet Georgia Brown (New Orleans, Lousiana)
Project Seventh Position!
8 Bossman Scale (Scale of E natural minor) (Brazil)
9 Shoreditch Strut (East London)
Natural Harmonics
Project Solo! (With an Irish Theme)
10 Irish Nights (Cork)
11 Whiskey in the Jar (Dublin)
12 Gypsy Swing (Paris)
13 Rainbow Bossa (London Bridge)