Viewing:
» Joan Baez Suite, Op.144_Duarte, John W.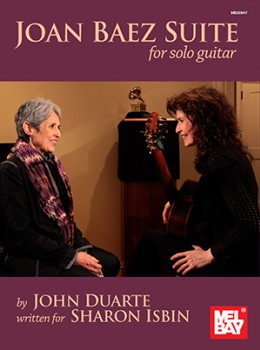 Joan Baez Suite, op.144
Product Information
Author:

DUARTE, John W.

Editor:

ISBIN, Sharon

Type:

Book Only

Language:

English

Instrumentation:

Solo Guitar

Skill Level:

Intermediate / Advanced

Pages:

24

Availability:

Sold: Out of Stock

Stock Reference:

MB30647


Full Description
John DUARTE
Joan Baez Suite op.144
The Joan Baez Suite, op.144 is the last of the great folk song suites written by John Duarte. Stretching back to his English Suite op.31, recorded by Segovia and many others, he brought the folk music of many countries, regions, and artists to life. The Joan Baez Suite, written for the great guitarist, Sharon Isbin, brings together some iconic songs in superb arrangements which will satisfy players and audiences alike.
I. Fantasia
- Once I Had a Sweetheart
- Rambler Gambler
- Barbara Allen
II. House of the Rising Sun
III. The Lily of the West
IV. The Unquiet Grave
V. Silkie
VI. Finale
- Rake and Rambling Boy
- Wildwood Flower
- The Trees They Do Grow High
* Where Have All the Flowers Gone?
For copyright reasons this movement, an integral part of the suite, is not included in this publication but is available to download only.