Viewing:
» The Best Of Ferdin&o Carulli (zigante)_Carulli, Ferdin&o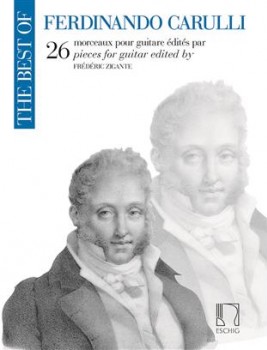 The Best of Ferdinando Carulli (Zigante)
Product Information
Author:

CARULLI, Ferdinando

Editor:

ZIGANTE, Frederic

Type:

Book Only

Language:

English/Italian

Instrumentation:

Solo Guitar

Skill Level:

Intermediate / Advanced

Pages:

128

Availability:

Available

Stock Reference:

DF16666


Full Description
Ferdinando CARULLI
The Best of Ferdinando Carulli
26 pieces edited by Frederic Zigante with an introduction by Carulli historian Mario Torta.
- Trois Ouvertures op.28 pour guitare seule ou Lyre
- Sul margine d'un rio, Ariette Italienne varié op.142 dédiée à Lady Fanny Seymour
- Solo avec variations sur l'air de La Molinara op.107 dédié à M.le Eugénie Charlard
- Polonaise op.141 dédié a Monsieur le Comte Léopold de Bohm
- Solo op.113 dédié à M.Le Artemise Camus
- Grande Sonate op.16 pour guitare seule
- Six Andantes op.320 dédiés à Matteo Carcassi
- 12 Petits Morceaux caractéristiques formant une seule Fantaisie op. 204
- o -
Ferdinando Carulli's modern popularity is above all linked to his Méthode op. 27 that, even today, more than 200 years after the publication of its first edition, remains the most reprinted, most revised, most translated and most used guitar method in the whole world. In fact, its success has been so great that it has effectively drawn a veil over the rest of his musical production, so that Carulli, upon closer inspection, turns out to be the least known, least researched, and least performed among all of the great guitar composers who lived at the turn of the 19th century, such as Fernando Sor, Mauro Giuliani, and Niccolò Paganini. This edition is based upon the first editions curated by Carulli himself. In one case, the Six Andantes op. 320, it has been possible to compare the printed edition to an autograph manuscript, one of the very few that have come down to us.