Viewing:
» Music Design Washable 3 Layer Face Mask(white)_MUSIC GIFT (PORTUGAL)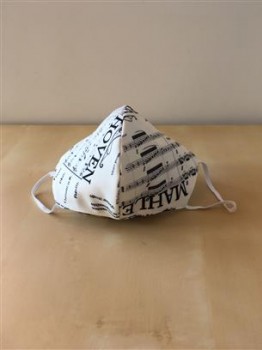 Music Design Washable 3 Layer Face Mask(White)
Product Information
Availability:

Available

Stock Reference:

MG2021


Full Description
Music Gift (Portugal)
Music Design 3 Layer Washable Face Mask (White)
In a short space of time face masks have become the norm in our daily lives. MUSIC GIFT ® protective masks are more than just fabric masks.
They combine Portuguese know-how in design and textile production with the best antibacterial solutions to guarantee an accessory that offers the essential protection and comfort for everyday life.
MUSIC GIFT® protective masks are a safe, ecological and reusable solution.
NOTE: All products are made from rolls of fabric with a pattern repeat design. This means the design featured on each item will vary.
Features: Neutralization of odour - Safety and biological compatibility - High efficiency and durability - Skin sensitivity
Effectiveness: Effectiveness guaranteed up to 50 washes without losing characteristics and properties. Recommendations - Do not use bleach - Do not use for more than 4 or 5 hours without washing the mask - wash before using.

Certification: CITEVE (Portuguese Technological Institute) nr 7386/2020 - GOTS (Global Organic Textile Standards) being proved that 98.3% of viruses are neutralizedafter 1 minutes and 99,2% after 2 minutes, getting to 100% after 10 minutes.
All are sold in individually hygienically sealed packaging.