Viewing:
» A Celebration Of His Music For Guitar_Duarte, John W.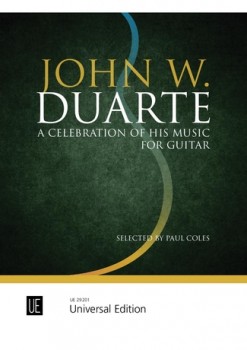 A Celebration of his Music for Guitar
Product Information
Author:

DUARTE, John W.

Editor:

COLES, Paul

Type:

Book Only

Language:

English

Instrumentation:

Solo Guitar

Skill Level:

Intermediate / Advanced

Pages:

36

Availability:

Sold: On Order

Stock Reference:

UE29201


Full Description
John DUARTE
A Celebration of his Music for Guitar
The British guitarist John W. Duarte was a well-known personality in the guitar world both at ome and abroad: he composed, taught, directed summer schools, produced
several books on guitar technique and worked too as a guitar journalist. His compositions of almost 150 works for guitar and lute incorporate an exceedingly wide range of musical styles.
This album offers a precious selection of pieces chosen by guitarists Paul Coles, that reflect his versatility as a composer, arranger and guitarist. Each one of these gems embraces so many aspects of playing the classical guitar. Besides being technically clear and precise, they introduce the characteristics of Latin, Baroque and more contemporary classical music.
Once mastered they are a delight to play – a timeless window of exciting repertoire.
Duarte John W.: Broadway
Duarte John W.: Spring Dance
Duarte John W.: Waltz II
Scarlatti Domenico: Sonata K431
Weiss Silvius Leopold: Paisane
Holborne Anthony: Fantasia
Smith Brindle Reginald: Corsa
Weiss Silvius Leopold: Prelude from 'Suite in D minor'
Riera Rodrigo: Nostalgia
Riera Rodrigo: Monottonia
Scarlatti Domenico: Sonata K83
Sanz Gaspar: Pavanas
Mudarra Alonso: Romanesca o 'Guardame las vacas'
Scarlatti Domenico: Sonata K208
Capirola Vinzenzo: Balletto
Capirola Vinzenzo: Ricercar VIII
Dowland John: Complaint
Dowland John: A Coy Toy
Dowland John: Hasellwood's Galliard
Pujol Máximo Diego: Preludio Tristón