Viewing:
» First Adventures On The Guitar_Nuttall, Peter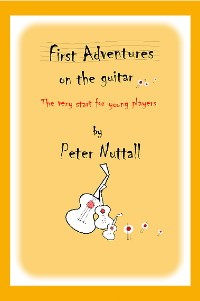 First Adventures on the guitar
Product Information
Full Description
Peter NUTTALL
First Adventures on the guitar
The very start for young players
A book written specifically for young beginners of primary school age!
It is particularly designed for those who teach small groups (as young as eight years of age) and need effective simple concert material from the very beginning.
The teaching schedule is very gently graded. This encourages students with an instant feeling of success in the early stages. Many of the pieces are carefully written to be flexible "school concert" ensemble material so that all can join in from the very start. In this way the teacher has instant performance pieces available as part of the students' natural progress.
As a further bonus - and to enhance the ensemble possibilities of the music - there is a sheet of "slghtly advanced" parts with each book, so that the better students have a little extra challenge to keep them interested!