Viewing:
» GHE
» Guitar Works Vol.14 (grondona) Carcassi_Llobet, Miguel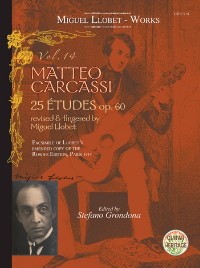 Guitar Works Vol.14 (Grondona) - Carcassi
Product Information
Author:

LLOBET, Miguel

Editor:

GRONDONA, Stefano

Type:

Book Only

Language:

English

Instrumentation:

Solo Guitar

Skill Level:

Intermediate / Advanced

Pages:

36

Availability:

Available

Stock Reference:

GHE914


Full Description
Miguel LLOBET
Guitar Works Vol.14 - Carcassi: 25 Etudes op.60
ed. Stefano Grondona
- o -
The fingering on all modern editions of the Carcassi studies op. 60, to a very large extent if not almost completely, derives from Llobet, who was the first to put RH fingering on them in his Rowies, Paris 1914 edition.
We are pleased to present a carefully restored facsimile of this edition from Llobet's library with all his fingering and emendations intact.

Contents
Carcassi: 25 Etudes (op 60) special facsimile edition of Llobetīs personal copy of the Rowies edition, ed. Llobet, Paris 1914, with Llobetīs hand-written emendments corrections etc., changes in pencil, all retained.
GHE914