Viewing:
» GHE
» Guitar Works Vol.13 (grondona) Sor Works_Llobet, Miguel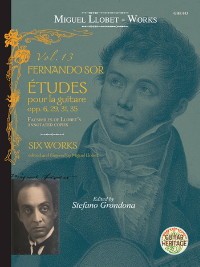 Guitar Works Vol.13 (Grondona) - Sor Works
Product Information
Author:

LLOBET, Miguel

Editor:

GRONDONA, Stefano

Type:

Book Only

Language:

English

Instrumentation:

Solo Guitar

Skill Level:

Intermediate / Advanced

Pages:

124

Availability:

Available

Stock Reference:

GHE913


Full Description
Miguel LLOBET
Guitar Works Vol.13 - Sor Works and Studies for Guitar
ed. Stefano Grondona
- o -
A unique view of Llobet, as a champion and arranger of Sor.
The Sor Studies are from Llobet's own library.
After stating so in an interview in Barcelona in 1929, which is reproduced in full in this edition, Llobet appeared intent on preparing a new edition of the Sor studies judging by the density of his marking and fingering. Unfortunately this never came to fruition!
We have reproduced these original later printings of Simrock editions, which were a gift from Erwin Schwarz-Reiflingen in 1928 and have carefully restored them for our ediiton. All Llobet´s fingering and ammendedments can clearly be seen.
The six original works by Sor (arranged and fingered by Llobet) have been newly engraved.
Contents
FACSIMILES OF LATER SIMROCK EDITIONS IN FACSIMILE*
WITH LLOBET´S MARKINGS FINGERINGS ETC: (see description):
SOR: 12 Études op. 6
SOR: 12 Études op. 29
SOR: 24 Leçons progressives op. 31
SOR: 24 Études op. 35
SIX WORKS OF SOR (REV. LLOBET - newly engraved)
SOR: Andantino op.2 no. 3
SOR: Andante largo op.5 no. 5
SOR: 3 Minuets from op.11 nos, 4, 5, 8
SOR Minuet from op.25
*= 1st publication
GHE913