Viewing:
» Bartok For Guitar (mccartney)_Bartok, Bela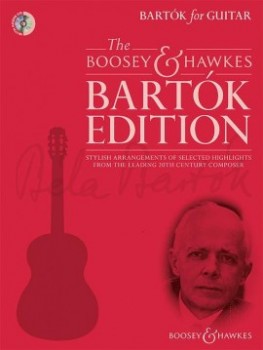 Bartok for Guitar (McCartney)
Product Information
Author:

BARTOK, Bela

Editor:

MCCARTNEY, Michael

Type:

Book Only

Language:

English

Instrumentation:

Solo Guitar/Two Guitars

Skill Level:

Intermediate / Advanced

Pages:

40

Availability:

Available

Stock Reference:

BH13242


Full Description
Bela BARTOK
Bartok for Guitar
This new book features stylish arrangements showcasing highlights from the leading twentieth century composer for developing musicians to learn and enjoy.
Bartók for Guitar features selected highlights from Bartók's most popular pedagogical repertoire including For Children, Mikrokosmos and others, arranged for Guitar (solo and duet) by Michael McCartney.
An accompanying audio CD features demonstration tracks.

Answering Voices
Imitation and Inversion
Pastorale
Reflection
Imitaton and Inversion
In Dorian Mode
In Phrygian Mode
Chorale
Children's Song
Canon at the Lower Fifth
Slovakian Song
Imitation Reflected
Dance in Canon Form
Slow Dance
Mourning Song
Minuetto
Hungarian Song
Contrary Motion
Midsummer Night Song
Rogue's Song/Sorrow
Old Hungarian Tune
Song
Tound Dance
Come Home, Lidi
Cradle Song
Triplets
Wedding Song
Baking Song
St George's Day
Where are your Geese
On the Street in Istvánd
Kitty, Kitty
Ploughing
Play Song
The Highway Robber
If there were Cherries
Study
Duets: Dance from Bucsum
Sash Dance
In One Spot
Slovakian Boys' Dance
Old Dance Tunes
The Bagpipe
Minuet