Viewing:
» Tres Colores Portenos_Montero, Claudia (f)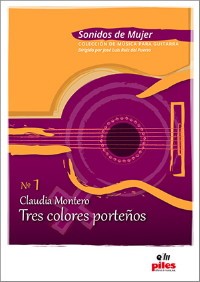 Tres colores portenos
Product Information
Author:

MONTERO, Claudia (f)

Editor:

RUIZ DEL PUERTO, Jose-Luis

Type:

Book Only

Language:

English/Spanish

Instrumentation:

Solo Guitar

Skill Level:

Intermediate / Advanced

Exam board Listed

Pages:

16

Availability:

Special Order Item

Stock Reference:

PIL1590


Full Description

Claudia MONTERO
Tres colores portenos
Vol.1 in the seies Sounds of Women - Sonidos de Mujer composers
- Azul TCL Grade 7 (2020-23)
- Gris
- Rojo
A suite for guitar from this Latin Grammy award winning composer(2014), written for José Luis Ruiz del Puerto.
In its three movements, Blue, Grey and Red, it explores the melancholy, romantic soundscape of the city through the guitar.
Azul (blue) in the style of a milonga alternating with moments of great lyricism, reflects the city sky, so often clear and blue, lending itself to fantasy and reverie.
Gris (grey) entirely mournful in mood, with a very brief central shift into the major mode, invites us to imagine the melancholy character of the city.
Rojo (red) in rondo form, is a journey through different rhythms and states, just as Buenos Aires absorbs all those who live there or visit the city.
The first performance of the work took place on 6 March 2014 in a concert given by José Luis Ruiz del Puerto at the Palau de la Música in Valencia.