Viewing:
» Canciones Sin Palabras_Sidney Pratten, Mme.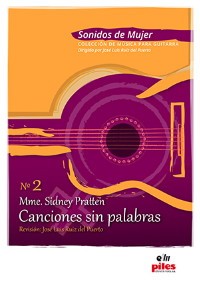 Canciones sin palabras
Product Information
Author:

SIDNEY PRATTEN, Mme.

Editor:

RUIZ DEL PUERTO, Jose-Luis

Type:

Book Only

Language:

English/Spanish

Instrumentation:

Solo Guitar

Skill Level:

Intermediate

Pages:

24

Availability:

Sold: On Order

Stock Reference:

PIL1030


Full Description
Mme.SIDNEY PRATTEN (born Catharina Josepha Pelzer)
Canciones sin palabras (Songs without words)
- Sadness
- A Lament
- Eventide
- Weary
- Forgotten (Impromptu)
- A Lost Love
- Sehnsucht (Longing)

A rare publication of music from this important figure from the later nineteenth century guitar. Elegant music in an undemanding, pleasant Romantic style.
Vol.2 in the series "Sounds of Women" composers.