Viewing:
» Etudes Simples Series 3(zigante)_Brouwer, Leo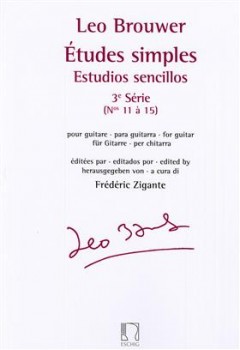 Etudes simples Series 3(Zigante)
Product Information
Author:

BROUWER, Leo

Editor:

ZIGANTE, Frederic

Type:

Book Only

Language:

English/French/German/Italian

Instrumentation:

Solo Guitar

Skill Level:

Intermediate / Advanced

Exam board Listed

Pages:

12

Availability:

Available

Stock Reference:

DF16381


Full Description
Leo BROUWER
Etudes simples Series 3
- Nos. 11 - 15
- Etude no.11
'pour les lies et les positions fixes'
ABRSM(2019) Grade 6
- Etude no.12
'pour les accords brises en legato'
- Etude no.13
''pour les lies et les positions fixes'
- Etude no.14
'pour les lies et le pouce
- Etude no.15 '
pour les accords de trois sons'
ABRSM(2019-) syllabus listed publication
Trinity College London(2016-19) syllabus listed publication
A new edition of the 4 series of Estudios sencillos (Études simples) originally published by Éditions Max Eschig (Série 1: ME 7997 | Série 2: ME 7998 | Série 3: ME 8494 | Série 4: ME 8495). Music text revised by Frédéric Zigante; new engravings; practical, easy-to-follow editorial lay-out; no critical notes included. The 4 series are taken from the complete edition (Estudios sencillos 1-20) recently revised by Frédéric Zigante.
Brouwer zigante Brouwer estudios zigante
Book (Printed Music)

£P.O.A.