Viewing:
» Sonata No.6 In G Bwv1019 (barrueco)_Bach, Johann Sebastian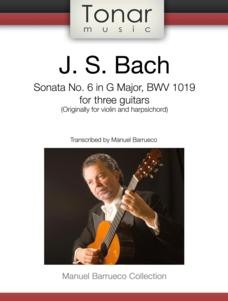 Sonata no.6 in G BWV1019 (Barrueco)
Product Information
Author:

BACH, Johann Sebastian

Editor:

BARRUECO, Manuel

Type:

Book Only

Language:

English

Instrumentation:

Three Guitars

Skill Level:

Intermediate / Advanced

Pages:

44pp+pts

Availability:

Available

Stock Reference:

TM50901


Full Description
J S BACH
Sonata no.6 in G BWV1019
arr.by Manuel Barrueco
for three guitars
This is Manuel Barrueco's transcription of the "Sonata No. 6 in G Major, BWV 1019" for three guitars, as recorded on the CD China West
Originally for violin and harpsichord. Fingerings by Manuel Barrueco and the Beijing Guitar Duo.
This edition includes a score (42 pages) and three guitar parts (16 pages each).
"There is more than one version of the Violin Sonata No. 6 in G Major, BWV 1019. In this version, the third movement, Allegro, appears as a harpsichord solo without violin. I have transcribed two possible versions for the performance of this movement:
III (a): (Guitar duo)
The harpsichord solo is transcribed as a duo for guitars II and III, which play the part of the harpsichord throughout the sonata.
Also included is a transcription of an optional short solo violin prelude from the Sonata BWV 1023 for guitar I, which I often choose to play as an introduction to III (a) in concerts and which I recorded (Tonar 40515). I believe that including it adds balance and interest, especially in live performances, and it is consistent with baroque practices.
III (b): (Guitar trio)
The harpsichord solo is transcribed for three guitars so that the entire sonata can be performed as a guitar trio.
Manuel Barrueco