Viewing:
» Cuenca: Model 45z_Cuenca Guitars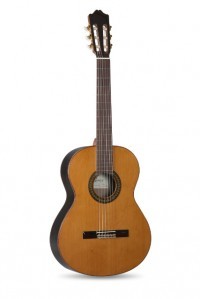 Cuenca: Model 45Z
Product Information
Type:

Guitar

Guitar Top:

Red Cedar

Back & Sides:

Laminated Ziricote

Fingerboard:

Indian Rosewood

Scale Length:

650mm

Width at nut:

52mm

Origin:

Spain

Condition:

New

Availability:

Special Order Item

Stock Reference:

CG45Z


Full Description
CUENCA GUITARS
Model 45Z
DELIVERY - UK SHIPPING ONLY (see below)
What the maker says:

Regarding the woods, the most important feature are the back and sides made of Ziricote (Cordia dodecandra), an extraordinarily beautiful wood, with a sound that could be described as deep, a very Spanish sound, an excellent sound

.
The effect of the Ziricote generates unique instruments, due to the contrasts of the wood grain of this wood. Although each guitar is always unique, in this case it can be said that the differences are more evident between one and the other.
With regard to the neck, the instrument is designed using the ergoneck, a narrower neck, in this case made with Mahogany, which provides much comfort in the performance.
The pieces of the saddle and nut are made of melamine, a material that transmits a lot of sound and offers a round and a very balanced sound.
The fingerboard is made of Indian Rosewood, a very hard wood that at the same time offers some elegant brown shades.
The guitarist, who plays this guitar, usually emphasizes the comfort in the interpretation. This is because of the characteristics of the neck and a string action more similar to the professional level, but very tight. The distance between strings and frets is very careful to get a guitar very comfortable, without being soft.
A mid-range guitar, offering a range of professional and surprising performance in a very satisfactory way.
Catherine's verdict:
One look at the beautifully figured ziricote back and sides and you know you are looking at something rather special.
For a modestly priced guitar this has a clear and powerful tone which projects well. It has a positive responsive action which reacts well to changes in angle and amplitude of attack. The Canadian red cedar soundboard lends the guitar warm overtones with a bright full sounding quality. An ideal guitar for a serious beginner or progressing guitarist.
---
Listen to a sample of this guitar:
Not working? Try here
---
DELIVERY OPTIONS:
CLICK & LOCAL COLLECT

SGC DELIVERY (within 40 miles of Nottingham)

COURIER - (arrange own insurance)


Please call to discuss options before purchase.
Guitar

£P.O.A.

Guitar

£P.O.A.

Guitar

£P.O.A.