Viewing:
» Cantigas De Santiago (russell)_Goss, Stephen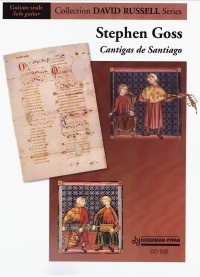 Cantigas de Santiago (Russell)
Product Information
Author:

GOSS, Stephen

Editor:

RUSSELL, David

Type:

Book Only

Language:

English

Instrumentation:

Solo Guitar

Skill Level:

Advanced

Pages:

36

Availability:

Sold: Out of Stock

Stock Reference:

DO926


Full Description
Stephen GOSS
Cantigas de Santiago
ed.David Russell

Custom printed - usually supplies within 28 days
1. Quen a Virgen ben servirá
2. Ondas do mare de Vigo
3. Como póden per sas culpas
4. Kyrie Trope
5. A madre de Deus
6. Ay ondas que eu vin veer
7. Non é gran cousa se sabe
Cantigas de Santiago is a modern reworking of medieval music associated with the Camino. This ancient pilgrimage route leads to the shrine of St. James in the cathedral of Santiago de Compostela in Galicia, northwestern Spain, where tradition has it that the remains of the saint are buried. The pieces draw on three sources: the Cantigas de Santa Maria, the Cantigas de Amigo, and the Codex Calixtinus.
The Cantigas de Santa Maria narrate miracles of the Virgin Mary. Their texts are vivid and down-to-earth, often bawdy and humorous. In Martin Codax' Cantigas de Amigo, a young woman awaits the return of her lover from a long and difficult voyage. Her mood shifts from hope to resignation as she realises that she will almost certainly never see him again. The Codex Calixtinus is a twelfth century illuminated manuscript. It was intended as a travel guide: an anthology of information and advice for pilgrims following the Camino. The manuscript includes some of the earliest examples of polyphonic music including the Kyrie Trope, Cunctipotens genitor.


The songs taken from the Cantigas de Santa Maria form the backbone of my Cantigas de Santiago with interludes taken from the other two sources. The set is organised as three pairs of movements encircling the Kyrie Trope, which functions as the still centre. Either side of the Kyrie Trope, there is a short, lively interlude from the Cantigas de Santa Maria. Flanking those are two Cantigas de Amigo which are slow and reflective. The set is bookended by two extended Cantigas de Santa Maria.