Viewing:
» Guitars
» Cuenca: Model 45 c_Cuenca Guitarras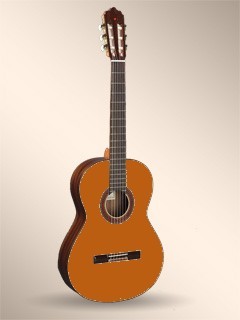 Cuenca: Model 45-C
Product Information
Type:

Guitar

Guitar Top:

Red Cedar

Back & Sides:

Mahogany

Fingerboard:

Rosewood

Scale Length:

650mm

Width at nut:

52mm

Origin:

Spain

Condition:

New

Availability:

Available

Stock Reference:

C45C


Full Description
GUITARRAS CUENCA

Estudio Series: Model 45C

* Price includes special promotional reduction
If you're looking for a modestly priced guitar with a clear and powerful tone that projects very well, then the Estudio Series Model 45 is an ideal choice. It has a good responsive action which reacts well to changes in angle and amplitude of attack. The Canadian red cedar soundboard lends the guitar warm overtones with a bright full sounding quality. An ideal guitar whether you are a beginner or more experienced player.
---
Listen to a sample of this guitar:
SHIPPING

Customers

outside

the UK please note there will be an extra charge for shipping as international shipping is charged by volumetric weight. We will email you a link after purchase. Please ask
for details.
Guitar

Only £401.67 (ex VAT)

Guitar

Only £297.50 (ex VAT)