Viewing:
» The Classical Guitar Compendium _Mermikides, Bridget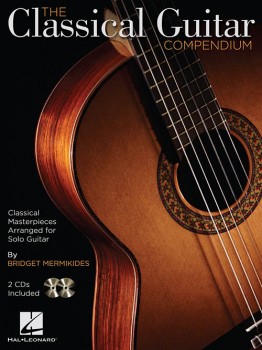 The Classical Guitar Compendium
Product Information
Author:

MERMIKIDES, Bridget

Editor:

MERMIKIDES, Bridget

Type:

Book Only

Language:

English

Instrumentation:

Solo Guitar

Skill Level:

Intermediate / Advanced

Pages:

160

Availability:

Sold: On Order

Stock Reference:

HAL151382


Full Description
The Classical Guitar Compendium [+ Online Audio]
This collection features classical guitar technical studies from Sor, Tarrega, Guiliani, Carcassi, and Aguado, as well as presenting fresh guitar arrangements of well-known classical masterpieces.
Repertoire compositions are included from Bach, Beethoven, Brahms, Chopin, Debussy, Fauré, Massenet, Mozart, Pachelbel, Ravel, Schumann, Tchaikovsky, Wagner and more. Online audio access is also included with guitar solo performances by the author.
Standard notation version.
- o -
1.Air On A G String [Bach, Johann Sebastian]
2.Jesu Joy Of Man's Desiring [Bach, Johann Sebastian]
3.Prelude from Cello Suite No.1 [Bach, Johann Sebastian]
4.Adagio from Pathetique Sonata [Beethoven, Ludwig Van]
5.Fur Elise [Beethoven, Ludwig Van]
6.Moonlight Sonata [Beethoven, Ludwig Van]
7.Lullaby [Brahms, Johannes]
8.Nocturne Opus 9 No.2 [Chopin, Frederic]
9.Prelude Opus 28 No.4 [Chopin, Frederic]
10.Prelude Opus 28 No.20 [Chopin, Frederic]
11.Clair De Lune [Debussy, Claude]
12.La Fille Aux Cheveux De Lin [Debussy, Claude]
13.Flower Duet from Lakme [Delibes, Leo]
14.Pavane [Faure, Gabriel]
15.Hall of the Mountain King [Grieg, Edvard]
16.Morning Mood from Peer Gynt [Grieg, Edvard]
17.Meditation From Thais [Massenet, Jules]
18.Clarinet Concerto 2nd Movement [Mozart, Wolfgang Amadeus]
19.Piano Concerto No.21 Andante [Mozart, Wolfgang Amadeus]
20.Rondo Alla Turca [Mozart, Wolfgang Amadeus]
21.Canon [Pachelbel, Johann]
22.Nessun Dorma [Puccini, Giacomo]
23.Bolero [Ravel, Maurice]
24.Gnossienne No.1 [Satie, Erik]
25.Gymnopedie No.1 [Satie, Erik]
26.Gymnopedie No.3 [Satie, Erik]
27.Ave Maria [Schubert, Franz]
28.Traumerei [Schumann, Robert]
29.Dance Of The Sugar Plum Fairy [Tchaikovsky, Pyotr Ilyich]
30.La Forze del Destino [Verdi, Giuseppe]
31.Ride Of The Valkyries [Wagner, Richard]