Viewing:
» A Treasure Chest Of Guitar Duos_HEGEL, MARTIN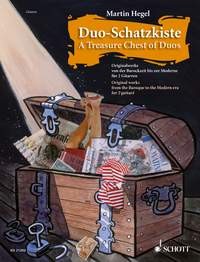 A Treasure Chest of Guitar Duos
Product Information
Author:

HEGEL, Martin

Editor:

HEGEL, Martin

Type:

Book Only

Language:

German

Instrumentation:

Two Guitars

Skill Level:

Intermediate

Pages:

60

Availability:

Available

Stock Reference:

ED21383


Full Description
A Treasure Chest of Guitar Duos
- F. Pilkington: Echo for two lutes
- F. da Milano: La Spagna
- Anonymous: Greensleeves
- Anonym: La Rossignol
- T. Robinson: A Toy for two lutes
- Anonymous: A Lesson for two lutes
- F. da Milano: Canon for two lutes
- J. Küffner: Allemande
- F. Carulli: Ariette connue No. 7
- M. Giuliani: Ländler No. 11
- J. Küffner: Duo No. 1
- F. Carulli: Ariette connue No. 12
- F. Sor: Valse No. 1
- M. Giuliani: Ländler No. 11
- J. Küffner: Duo No. 3
- F. Carulli: Le Nid et la Rose
- F. Sor: Valse No. 2
- M. Giuliani: La Pace
- L. v. Call: Rondo
- A. de Lhoyer: Nocturne No. 2
- F. Tárrega: Vals para dos
- P. Pettoletti: Vals
- F. Tárrega: Mazurka
- G. Maasz: Duo No. VIII
- O. Mayran de Chamisso: Lande celtique
- F. Pilsl: Tarantella
- F. Zehm: Musette
- O. Mayran de Chamisso: Promenade en barque
- G. Maasz: Duo No. VI
- F. Pilsl: Musette
Anybody who opens this 'treasure chest for duos' will enjoy valuable gems in the form of original compositions for two guitars. This volume provides a representative cross-section of easy to intermediate guitar duo literature with works from the Renaissance, Classical, Romantic and modern eras. The present volume is aimed at guitarists who possess a basic knowledge of guitar playing.
The works are suitable especially for concerts, auditions, and competitions.
As material to be used in lessons, the pieces deal, above all, with certain aspects of duet playing, such as confidence in leading one's own part and the training of the players' sense of style for music from the different epochs. While considering a balanced sound, the players shall learn to listen to each other, improve their own performance with regard to technical and musical aspects and jointly develop their own interpretations when playing together.