Viewing:
» GHE
» Guitar Works Vol.1 (grondona) Catalan Folksongs_Llobet, Miguel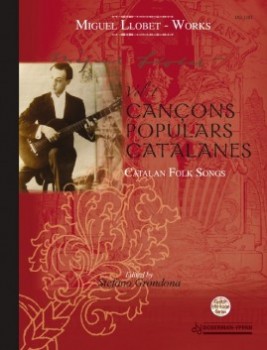 Guitar Works Vol.1 (Grondona) - Catalan folksongs
Product Information
Author:

LLOBET, Miguel

Editor:

GRONDONA, Stefano

Type:

Book Only

Language:

English

Instrumentation:

Solo Guitar

Skill Level:

Intermediate / Advanced

Pages:

72

Availability:

Available

Stock Reference:

GHE901


Full Description
Guitar Works: Vol.1 Catalan Folk Songs
Volume One of the new edition of Miguel Llobet's works containing some of his finest arrangements. Includes an extensive preface and commentary.

Miguel LLOBET
Plany (1899)
La filla del marxant (1899)
La filadora (1st version 1899)
Lo rossinyol (1900)
L'hereu Riera (1900)
Lo fill del rey (1900)
El testament de n'Amčlia (1900)
La pastoreta (1st version April 1905)
La pastoreta (2nd version August 1905)
El mestre (1910)
La nit de Nadal (1918)
La filadora (2nd version 1918)
Cansó del lladre (1927)
La presó de Lleida
El Noy de la Mare, La venjansa (c.1895), La filla del marxant (1900), L'Anunciació (1900)
L'Hostal de la Peyra (1900)
Lo rossinyol (c.1900 incomplete)
M.Llobet: Cançó catalana, op. 4 (c.1896)
A.Vives: L'emigrant
Edition previously published by Chanterelle ECH1801.
GHE901

catalan folk songs volume 1 el

noi de la mare