Viewing:
» Last Encores_Schmitz, Georg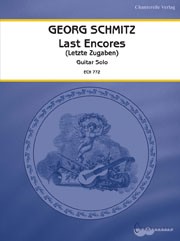 Last Encores
Product Information
Author:

SCHMITZ, Georg

Editor:

DESIDERIO, Aniello

Type:

Book Only

Language:

English/German

Instrumentation:

Solo Guitar

Skill Level:

Advanced

Pages:

12

Availability:

Sold: On Order

Stock Reference:

ECH0772


Full Description
- Andante
- Bewegt
- Furioso
- Gesunden
Dedicated to Aniello Desiderio and premiered by him at the 2009 Koblenz Guitar Festival, here is what Aniello and Classical Guitar Magazine have to say about this work:
'It is always difficult to find the right words to speak about music. Good music, like poetry, communicates with us on a different level to other sounds or words. The best music reaches greater depths with each hearing. This is how I feel about these pieces by Georg Schmitz: they really express something from deep inside, which cannot be expressed with words.'
(Aniello Desiderio, Napoli 2009).
'The Letzte Zugaben, meaning `last encores`, are four pieces which move magically past you almost as if you are in a dream. The music is light-footed and delicate, as if it comes from another world ' a magical other world' and as is appropriate for encore pieces, they leave you wanting to hear more.'
Classical Guitar Magazine, December 2009