Viewing:
» Concerto [score & Parts] [2vnvavcgtr]_Vidal, B.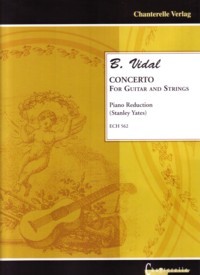 Concerto [Score & Parts] [2Vn/Va/Vc/Gtr]
Product Information
Author:

VIDAL, B.

Editor:

YATES, Stanley

Type:

Book Only

Language:

English

Instrumentation:

2Vn/Va/Vc/Gtr

Skill Level:

Intermediate / Advanced

Pages:

24pp+pts

Availability:

Sold: On Order

Stock Reference:

ECH0561


Full Description
Concerto for guitar & strings
The guitar concerto by Vidal was advertised for sale early in 1793 and is the earliest known example of this genre. It is the only one to survive from the eighteenth century. The next known concertos appeared from ten years later and include works by Antoine Lhoyer(1802), Charles Doisy(1804) and later Pierre Porro(1807-11)
Edition and Foreword by Stanley Yates
Historical Notes by Erik Stenstadvold.
Score & parts(2 Violins, Viola, Cello)