Viewing:
» Variations On A Theme Of Mozart, Op.9(opheede Kloe)_Sor, Fern&o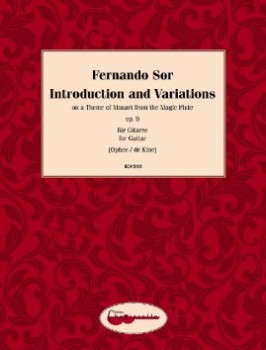 Variations on a theme of Mozart, op.9(Ophee/de Kloe)
Product Information
Author:

SOR, Fernando

Editor:

DE KLOE, Jan

Type:

Book Only

Language:

English

Instrumentation:

Solo Guitar

Skill Level:

Intermediate / Advanced

Pages:

16

Availability:

Available

Stock Reference:

ECH5101


Full Description
Introduction and Variations on a Theme of Mozart, op.9
Fernando Sor's most popular work, happens to probably be his best anyway. When Andres Segovia started playing it regularly its place in the guitar repertoire was guaranteed.
This new performing edition has been meticulously edited from the most reliable available sources by Jan de Kloe with Historical Notes by Matanya Ophee.
Set to become the standard edition of this justly popular work.
Magic Flute Variations on a theme by Mozart fernando sor Sor op.9
fernando sor op9