Viewing:
» Three Chilean Pieces_Perez, Carlos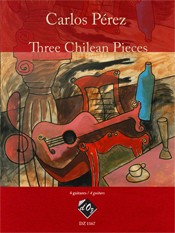 Three Chilean Pieces
Product Information
Author:

PEREZ, Carlos

Type:

Book Only

Language:

English

Instrumentation:

Four Guitars

Skill Level:

Intermediate / Advanced

Pages:

20pp+pts

Availability:

Sold: On Order

Stock Reference:

DZ1167


Full Description
1. Refalosa
2. Entonacion
3. Cueca
These works(dedicated to Clare Callahan) are based on old musical forms from the folklore of Chile.
Refalosa is derived from the word to "slide" and refers to the way the dancers slide their feet.
Entonacion is a generic name for the way in which popular singers sing their poems, which are usually free form rhythm.
Cueca is the energetic national dance of Chile.
More intermediate than advanced.