Viewing:
» Sale
» Nocturnal, Op.68_MICHAEL, FRANK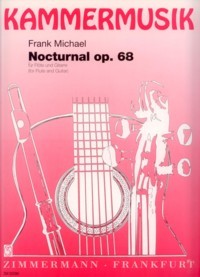 Nocturnal, op.68
Product Information
Full Description
Nocturnal op.68
(Hommage a Anais Nin)
In contrast to the divertimento-like Notturno" or the dreamy "Nocturne", the title "Nocturnal" points to the abysmal dimensions of night music. On the other hand, Nocturnal is the title of Edgar Varèse's last work which was based on text fragments from Anais Nin's "House of Incest" written in 1934. Thus, a quote is taken from this work."(taken from the composer's preface). Apart from this background, Frank Michael as usually works with symbolic numbers. This composition is a "Hommage à Anais Nin et Henry Miller". It requires skillful technique from both players. Notation is easy to read and traditional. Enclosed is a detailed plan with playing instructions. According to its sound language, this piece adds variety to the great number of concert works for flute and guitar already existing. However, intense listening in advance is an absolute prerequisite for adequate interpretation which in turn is rewarded with experiencing new and at the same time familiar sound structures.
Work composed(1994) in a contemporary idiom using both natural played sounds and colourful effects on both instruments as well as microtonal notes.
Inspired by the darker elements of night sounds.
Composer's manuscript facsimile edition (Two performing scores)