Viewing:
» DVD
» Guitar Around The World [dvd]_Dojcinovic, Uros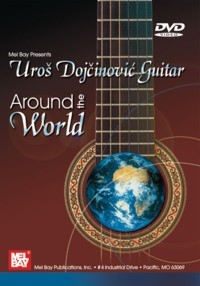 Guitar Around the World [DVD]
Product Information
Type:

DVD

Format:

NTSC

Language:

English

Length:

53:00 minutes

Availability:

Available

Stock Reference:

MB21668


Full Description
DOJCINOVIC
- Serbian Lamento and Characteristic Dance, op.42
COTTIN
- Russian Diptych "Balalaika"
BEHREND
- Piece of Japanese Song after Tsisuki
DOJCINOVIC
- Piece after Chinese Air
JOVICIC
- Two Varied Love Songs
TARREGA/ARCAS
- Aires Nacionales Espanoles
PANIN
- Dance of Eskimos, op.24
ANIDO
- El Misachico
RUEDA
- Virgenes del Sol
DOJCINOVIC
- Piece on Ukranian Romance
ANON
- Two Pieces on Bosnian Folksong Themes(Dojcinovic)
DOJCINOVIC
- Piece after a Dalmation Lullaby, op.58
In this remarkable video/solo guitar recital, Serbian musician, composer, pedagogue and publisher, Uros Dojcinovic, takes the listener on a musical journey through: Russia, Ukraine, Spain, South American, the Far East (Japan and China), and the Balkan countries of his native former Yugoslavia (Bosnia, Serbia and Croatia).
Each piece includes a wealth of photo documentation (paintings, landscape photographs, portraits of famous composers, and authors of the works) featuring the Yugoslav Guitar Society collection.
Also, this recital displays Dojcinovic'??s exceptional and refined technique and supreme interpretation. Most of the pieces include a variety of special new sound effects created by the master-himself to enrich the ethnic colors of the pieces inspired by traditional folk sounds.