Viewing:
» Complete Lute Songs [med Voc]_Dowl&, John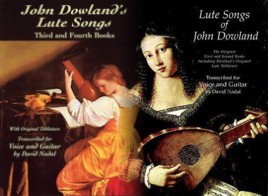 Complete Lute Songs [Med Voc]
Product Information
Author:

DOWLAND, John

Editor:

NADAL, David

Type:

Book Only

Language:

English

Instrumentation:

Med.Voc/Gtr

Skill Level:

Intermediate / Advanced

Pages:

272

Availability:

Available

Stock Reference:

DP_Dowland


Full Description
Complete Lute Songs
(Two Volumes)
First and Second Books of Songs or Ayres
Unquiet thoughts
Who ever thinks or hopes of love
Ay thoughts are wing'd with hopes
If my complaints could passions move
Can she excuse my wrongs?
Now, O now, I needs must part
Dear, if you change
Burst forth my tears
Go crystal tears
Think'st thou then by thy feigning
Come away,come sweet love
Rest awhile you cruel cares
Sleep, wayward thoughts
All ye, whom Love or Fortune(2 versions)
Wilt thou, unkind, thus reave me
Would my conceit
Come again
His golden locks
Awake,sweet love, thou art return'd
Come heavy Sleep
Away with these self-loving lads
My Lord Chamberlain, his Galliard;

I saw my lady weep
Flow my tears
Sorrow,stay
Die not before thy day
Mourn, day is with darkness fled
Time's eldest son,Old Age
Then sit thee down
When others sing Venite
Praise blindness eyes
O sweet woods
If floods or tears
Fine knacks for ladies
Now cease my wand'ring eyes
Come ye heavy states of night
White as lilies was her face
Woeful heart
A shepherd in a shade
Faction that ever dwells
Shall I sue
Toss not my soul
Clear or cloudy(2 versions)
Humour say what mak'st thou here
Dowland's adieu
Third and Fourth Books of Songs or Ayres
Farewell too fair
Time Stands still
Behold a wonder here
Daphne was no so chaste
Me,me, and none but me
When Phoebus first did Daphne love
Say Love if ever thou didst find
Flow not so fast ye fountains
What if I never speed?
Love stood amaz'd
Lend your ears to my sorrow
By a fountain where I lay
Oh what hath overwrought
Farewell unkind farewell
Weep you no more sad fountains
Fie on this feigning
I must complain
It was a time when silly bees could speak
The lowest trees have tops
What poor astronomer are they
Come when I call(2Voc/2 Lute)
Disdain me still
Sweet stay awhile
To ask for all thy love
Love those beams
Shall I strive with words to move(Mignarda)
Where every thought an eye
Stay Time awhile thy flying
Tell me true Love
(With treble & bass viols/Violin-Cello)
Go nightly cares
From silent night
Lasso vita mia
In this trembling shadow
If that a sinner's sighs
(A three part work)
Thou mighty God
When David's life
When the poor cripple
(With chorus)
Up merry mates
Welcome black night
Cease these false sports
Far from triumphing Court
Lady if you so spite me
In darkness let me dwell
Galliard to Lachrimae(solo)
Version for lute tablature included alongside guitar transcription.