Viewing:
» Seis Duos (montiano)_LAPORTA, ISIDRO DE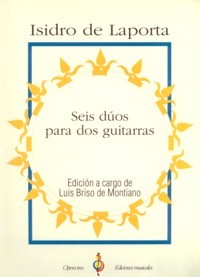 Seis Duos (Montiano)
Product Information
Author:

LAPORTA, Isidro de

Editor:

MONTIANO, Luis Briso de

Type:

Book Only

Language:

English/Spanish

Instrumentation:

Two Guitars

Skill Level:

Intermediate / Advanced

Pages:

48pp + pts

Availability:

Available

Stock Reference:

OT060


Full Description
(ed.Luis Briso de Montiano)
A rarity from the early Spanish guitar. These six duets each comprise two contrasting movements. They were first published in 1788.
Comprehensive notes are provided in the preface.
The works themselves are mostly in two parts, a moderate tempo first movement followed by a livelier Rondo.
No.4 in A is the exception in three movements, the Rondo being preceded by a Minuet. All a delightfully melodic and inventive.